Product Description
Dump Truck Heavy Tripper Truck for Seal
Rock trucks are off-highway, rigid dump trucks specifically use in high-production mining and heavy-duty construction environments. These mining dump trucks are used to haul/transport large amounts of material such as dirt, rocks, coal and other aggregate materials across unpaved roads on construction sites, gravel pits, and in open-pit mines. The rock trucks are powerful haul trucks, capable of carrying huge loads that would require dozens of dump trucks to match. Buying a rock truck is a cost efficient alternative to rock truck rental or buying new.
It is a heavy-duty mining self-dumping truck produced for various open pits, steel works, water and power supply construction sites and harbors, braving poor roads and harsh working environment for short distance transport, especially suitable for mining and rock excavation.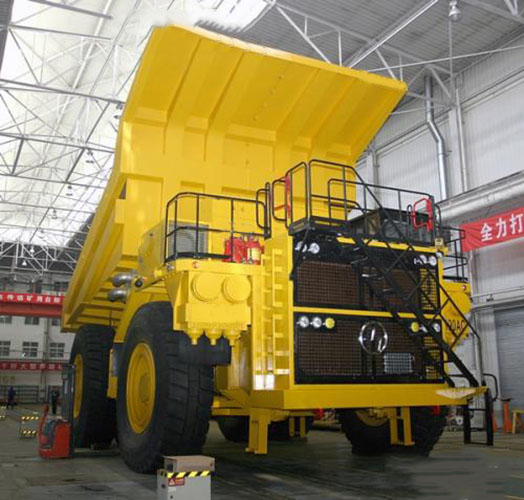 ♢ Dual Motor Power System
Dynamic, energy efficient, maximum climbing slope 35%, maximum speed 46 km/h;
Shift smooth, the first in the industry to solve heavy-haul ramp shift power interruption industry problems;
Brake energy recovery efficiency is high, double motor maximum braking power 550 kw, can maximize energy recovery.

♢ Power battery system
Using high energy density lithium iron phosphate battery, high safety and long cycle life;
The battery pack adopts a customized die-cast aluminum shell, which greatly improves its seismic performance;
Fast charging technology, full charge in 1 hour, charge once a day;
High-strength power battery compartment to meet the complex working conditions of the mining area.
Long warranty: five years or 200,000 kilometers, whichever comes first.

♢ Oil and gas suspension
Completely solve the pain point of frequent break of the front suspension leaf spring of the industry, and improve the attendance rate of the whole machine.

♢ Full hydraulic steering + emergency steering
Solve the heavy steering caused by mechanical steering in the industry and reduce the labor intensity of drivers;
Equipped with emergency steering device, it can solve the safety accidents caused by the current emergency braking when the vehicle loses power and cannot turn.

♢ High-strength frame
Avoid stress concentration fracture caused by non-fitting of subframe and main frame, and improve the stability of the whole machine;
The flexural section modulus of the frame is increased by 40%, and the overall stress level is reduced by 51% compared with competing products.
Core parameters

Load :60 t

Engine power: 215/350KW Car

volume :35 mm³

Technical parameters

Drive Type: Holistic Bipolar Drive Bridge

Height :8967*3486*4308 mm

Tire specification: 14.00-25 (level 36)

Assigned weight :60 t

Minimum turning radius :11 m

Maximum gross vehicle weight :90 t

Maximum Torque :2800 +2600NM

Drive motor type: permanent magnet synchronous

motor Charge time :1 hour

Power battery: lithium iron phosphate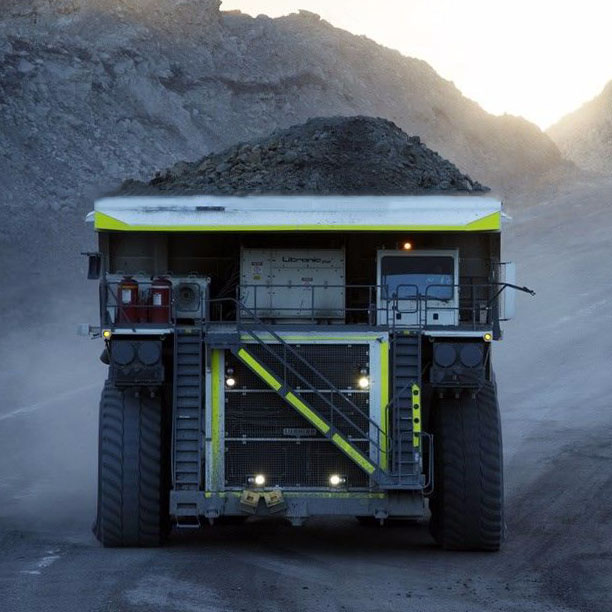 Our Company
North Heavy Gryps Group (hereinafter referred to as NHG) was established in 1993. The company is headquartered in Shenyang Economic & Technological Development Zone which is honored by the State Department as " Double Demonstration Zone" of national equipment manufacturing industry. NHG is specialized in the R&D, manufacturing and sales of mining and tunneling equipment and overseas mining and tunneling engineering services with more than 3,000 employees (including construction personnel) worldwide, 2,000 equipment and 300 construction projects providing services to different customers in more than 10 countries all over the world.

The company has established branches and offices in Southeast Asia (Laos), South Asia (India), Europe (Poland, Turkey), Russian (Novokuznetsk), South America (Venezuela), Africa (South Africa) and other countries. A regional operation network with equipment sales, service and parts supply and engineering construction has been established. The 24 × 365 service is implemented to meet the user's requirements to the greatest extent.

With the rapid development of NHG, adhering to the tenet of "QUATLITY WINS WORLD, TECHNOLOGY BUILDS NHG", it is standing out as a pioneer in the industry and has become an international benchmark enterprise in China both for international sales of mining & tunneling machinery and also for international engineering construction services.